Aims Global Immigration & Education Services is all about a one-stop solution for all your immigration and international education needs. Our services range from assisting with admissions and advising on a range of visas, to arriving in New Zealand and finally settling here.

Our principle lies in our motto – For us, your results come first.
Aims Global Immigration and Education Services has been helping people choose New Zealand for more than 15 years.
Aims Global began in 2004 as a dream shared by the dynamic father-daughter team of Amar Manchanda and Arunima Dhingra, the aim was to assist people wishing to study in New Zealand.
Soon after, it evolved into all visa services. The focus grew to encompass helping people find their way through the ever-changing and complex immigration requirements, to finally settle in our beautiful country. We have helped over 10,000 clients since our inception. This has given us unparalleled professional experience allowing us to give you the most trustworthy advice
Aims Global immigration service company is now headed by Arunima, who is also the company's principal adviser.
EXPERIENCE IS WHAT MAKES AIMS GLOBAL STAND OUT
The team at Aims Global have a combined of experience of 35 years in helping their clients and providing specialised legal immigration services.
Clients come primarily through word-of-mouth referrals from an impressive database of satisfied clients. The company has countless success stories from people who have moved to New Zealand to work, study or invest.
EDUCATION NEW ZEALAND RECOGNISED AGENCY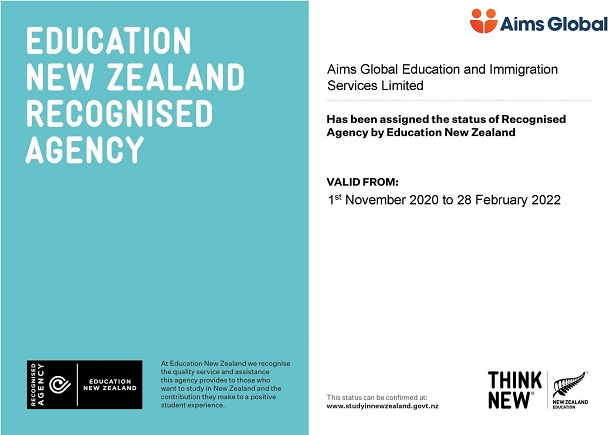 Aims Global has been granted the ENZRA (Education New Zealand Recognised Agency) status by Education New Zealand. This programme recognises high quality, top performing agencies who work effectively with international students coming to New Zealand.

This recognition makes us one of those unique immigration firms providing in-depth student visa and general immigration services (visitor, work visas, residencies, employer accreditation, etc) in equal measure.
Our Mission
Our mission is to become New Zealand #1 trusted immigration services provider.
Aims Global is built on strong values that empathise with its customers, offering a personal service that understands the stress and worry associated with the immigration process.
Through our continued services to the industry we strive to:
Guide and counsel students to make the right choices on their journey in New Zealand
Guide people through intricate visa procedures with compassion and consideration
Support the community by providing pro bono services
Contribute to the professional industry via active involvement with New Zealand Association of Migration and Investment (NZAMI)
Make significant contributions in policy change by the government through consultation