Critical timeline for employers
12 May 2021
This has been a long time coming. After the first glimpses of announcements in 2019, we finally have a launch date for the new accreditation system and a name for the new temporary work visa – Accredited Employer Work Visa (AEWV).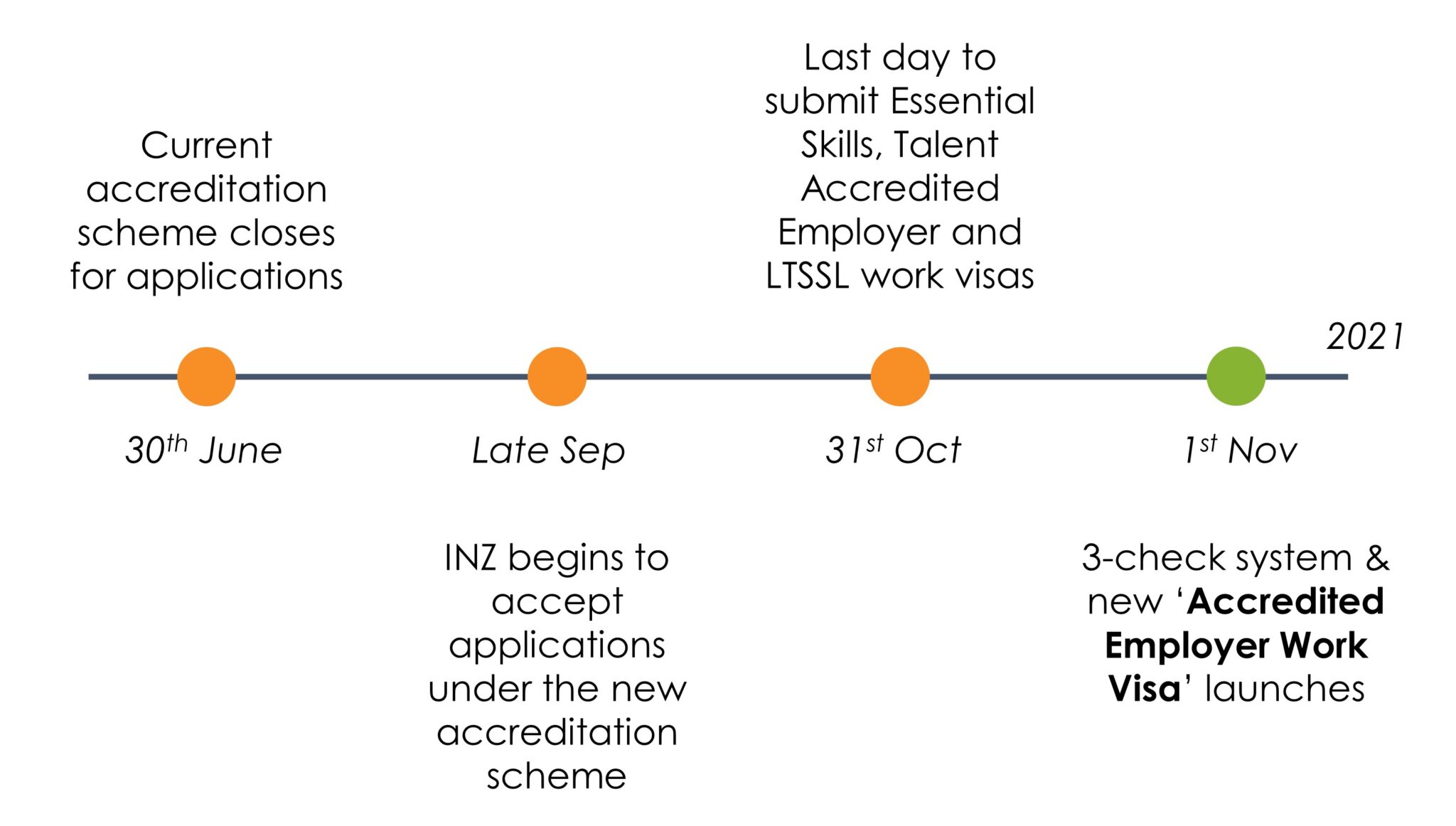 We will also see a whole new process come into place – a 3-tiered employed led system where the actual work visa by the foreign worker will only be submitted at the third step.
However, this is not an abrupt transition – it is a phased approach starting 30 June 2021. Here's what it looks like:
• 30 June 2021 – On this day, 2 current employer policies are closing to new and renewal applications: Accredited Employer (Talent – Accredited Employer) and Labour Hire Accreditation. If any employers want to use these schemes, then their applications must be submitted by 30 June. This date is significant because it provides a very small window for any employers still wanting to be accredited, and support employees on Talent (Work to Residence) Work Visas.
• Late September 2021 – Sometime around the end of September, INZ's portals will open to accept applications from employers under the new accreditation system. This gives employers wanting their accreditation sooner rather than later, a chance to get a month or so head start.
• 31 October 2021 – This date is critical as it is the last day to submit any Essentials Skills, Talent Accredited Employer (Work to Residence) and Long-term Skill Shortage Skills Work Visa applications.
• 1 November 2021 – The entire process changes with the 3-check system and the full AEWV policy officially going live. This simply means that accreditation will be mandatory for any employer supporting a migrant worker on AEWV from 1 November 2021.
Immigration simplified
Providing professional immigration advice and support for over 15 years. Aims Global is an agile team of licensed immigration advisers and experts who are skilled advocates for our clients and are always at the forefront of policy changes.
Our mission is to help our clients achieve their goals through simplifying the complex immigration process. We are experts in understanding your needs so we can fulfil your purpose, whether you're an employer, employee, student, or family.
- by Zinnia Manchanda

Contact us now to find out more: https://www.aimsglobal.co.nz/contact/