New Employer Accreditation & Job Check
28 November 2021
Update as of 7 April 2022:
INZ released further updates on the fee and estimated processing timeframes for the 3 steps to hiring a migrant on an Accredited Employer Work Visa (AEWV). Find out here!
Update as of 22 March 2022:
INZ released further updates on the accreditation and job check steps. Please see them here.
---
On Friday, 26/11/2021 Immigration New Zealand presented a webinar with information regarding the new work visa scheme which starts 04 July 2022. This new system makes employer accreditation a mandatory step before a migrant can be hired on the "Accredited Employer Work Visa". This date also marks the end of Essential Skills as we know it. There was new information shared in this webinar. Here are the main takeaways.

Employer Accreditation:
Employers apply for either standard or high volume accreditation depending of the number of migrants they plan to hire. Franchisees and Triangular employers have to meet additional requirements.
Initial accreditation, once approved, lasts for 12 months. Thereafter, employers must apply for renewals which are granted for either 12 months or 2 years depending on the type of accreditation
To ensure employers who apply early are not disadvantaged, an employer's accreditation will be valid for 12 months from 4th July 2022, the date the policy becomes mandatory. For example, if accreditation is granted 20 days before this date, the total duration this first accreditation will be granted for is 12 months and 20 days
Employers still accredited under the talent scheme – will need to apply under this new system (when they need to begin hiring migrants) and meet the requirements. This is because the new requirements are very different to the accreditation scheme that previously existed.
Don't need to be accredited ahead of time, only when you anticipate hiring a new migrant on an Accredited Employer Work Visa

Job Check:
Key requirements of job check stage (for which the employer pays) are:
Employer holds accreditation and continues to meet the requirements of this
The employment is acceptable (as per employment and immigration standards) – minimum 30 hours/week, pays market rate.
This stage is also where High-Volume employers need to demonstrate their commitment to increasing pay and conditions + the role is paid 10% above minimum wage (or covered by a collective agreement)
No suitable NZers available to do the role (where required)
Job check valid for 6 months from date of approval or whenever employer accreditation lapses (whichever is earlier)
Multiple roles can be included in the same job check if the details of the job are the same including the pay rate, occupation, minimum job requirements, city/region. Job check is subject to the same labour market test conditions, Covered by same advertising and proposed employment agreement
Job quota starts when a job check is approved. For employers of standard accreditation, a job quota for up to 5 migrant workers applies.

A migrant's visa is expired or a migrant goes to work for another employer

Job check expires without a visa being issued
Or if an employer applies for high volume accreditation (in which case the quota expands)
Labour Market Test
Whether a labour market test (LMT) is required or not depends on salary and whether the role offered is in a city or a region in New Zealand.
Cities:
Auckland
Christchurch
Wellington
Lower Hutt
Upper Hutt
Porirua
Hamilton
Dunedin
Whether advertising evidence is required for roles in the cities depends on whether job is paid below median wage, at 200% above median wage or in between: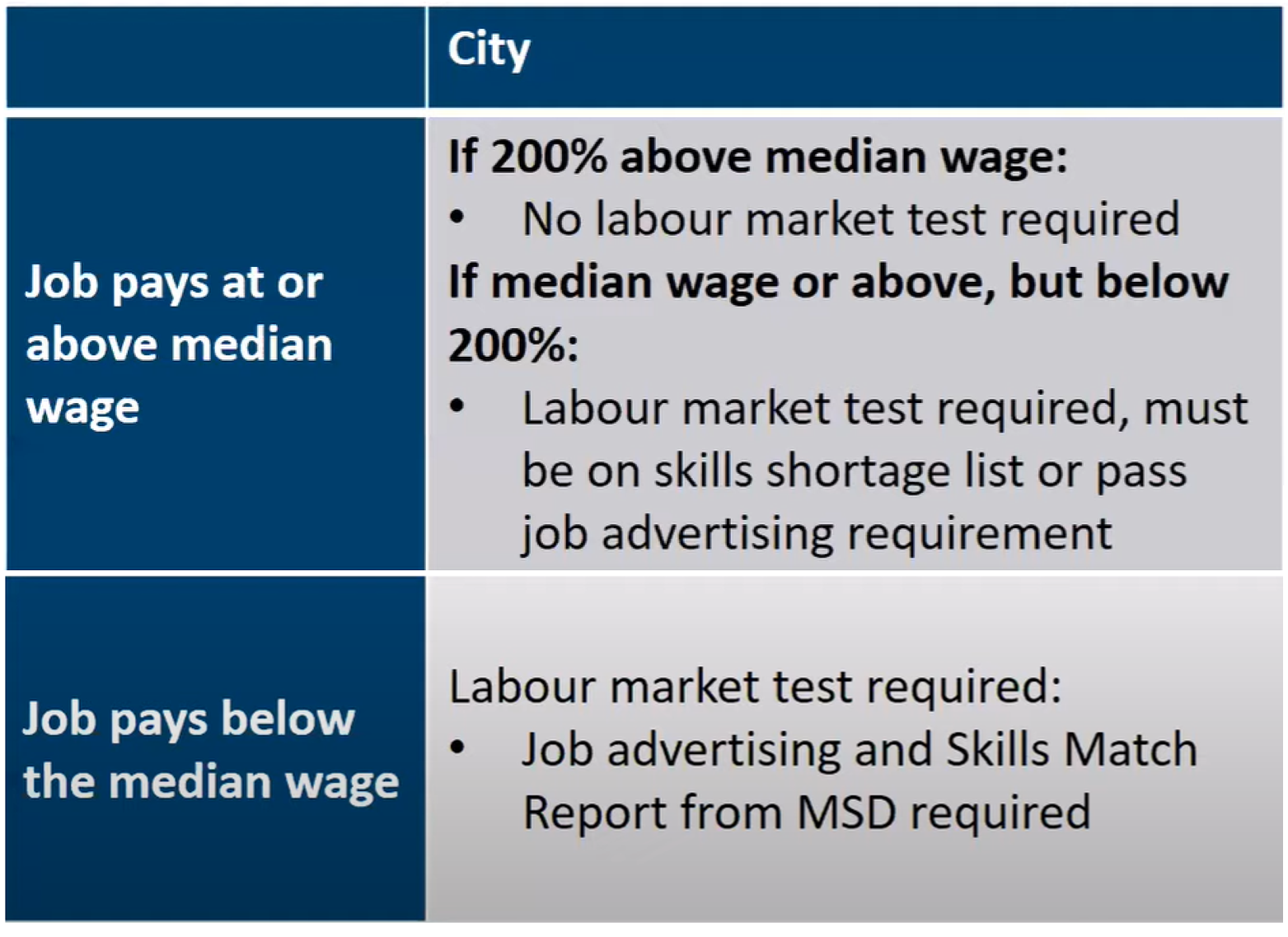 Regions
Northland
Manawatū-Whanganui
Bay of Plenty
Gisborne
Hawke's Bay
Taranaki
Waikato
Wellington Region
Tasman
Nelson
Marlborough
West Coast
Canterbury
Otago
Southland
No labour market tests are required for roles being offered in the regions unless they are paid below median wage. All regions above exclude cities.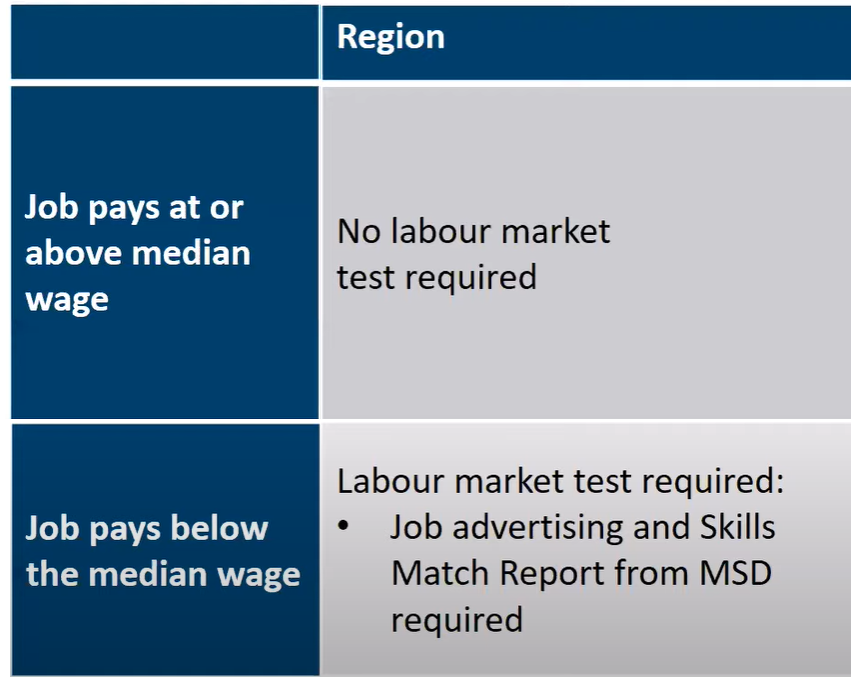 It is proposed that this differentiation will be based on regional city council boundaries and will be confirmed once finer policy details are published. Median wage is revised each year.
Although the INZ webinar presented a great deal of new information regarding the AEWV and upcoming three-step process, we are eagerly awaiting additional details. Subscribe to our immigration update newsletter to ensure you remain in-the-know.