Care Workforce Sector Agreement: Uniqueness and Limitations
31 August 2023
Written by Zinnia Manchanda - Director and Senior Licensed Immigration Adviser #201600267
The care workforce sector agreement (which specifically covers Health Care Assistants - HCA working in the aged care sector) was shaped by the Government in September 2022 to recognize the intricacies of this sector. It offers exemptions from standard immigration rules that otherwise apply to (most) other industries.
This sector agreement next comes up for review in Oct 2024, but even in its current format has some uniqueness and limitations.
Unique point:
Work visas for HCA paid below median wage:

Normally a migrant worker earning less than the median wage of $29.66/hour cannot apply for an Accredited Employer Work Visa.
However, the Sector Agreement offers exemptions for HCAs paid below the median wage but only for Level 3 and Level 4.

L4 HCAs also have a residency pathway under this role. It allows care workers who are paid NZD $28.25 an hour (Level 4) of the Support Workers (Pay Equity) Settlements Act 2017 to gain residence after 24 months.
Limitations:
There are no work visas available to L0 or L2 HCAs. This is of concern to employers who wish to support their L2 staff study L3 Health & Wellbeing Certificate through Career force or similar providers, but Career force asks for a 12-month work visa – but alas! There is no work visa for anyone below L3.
While L3 and L4s can get a work visa, they cannot support partners for a work visa unless they are paid at/above $29.66/h.

INZ increased the median wage rate from $27.76 to $29.66/hour on 27th Feb 2023. Prior to this date, L4 HCA paid $28.25/hour was above the median wage, and could support partners.
But when the median wage went up, pay equity rates remained the same. This meant that L4 could no longer support work visas for their partners – just through one simple change in policy.
This had a profound impact on L4 HCA who were planning to support family.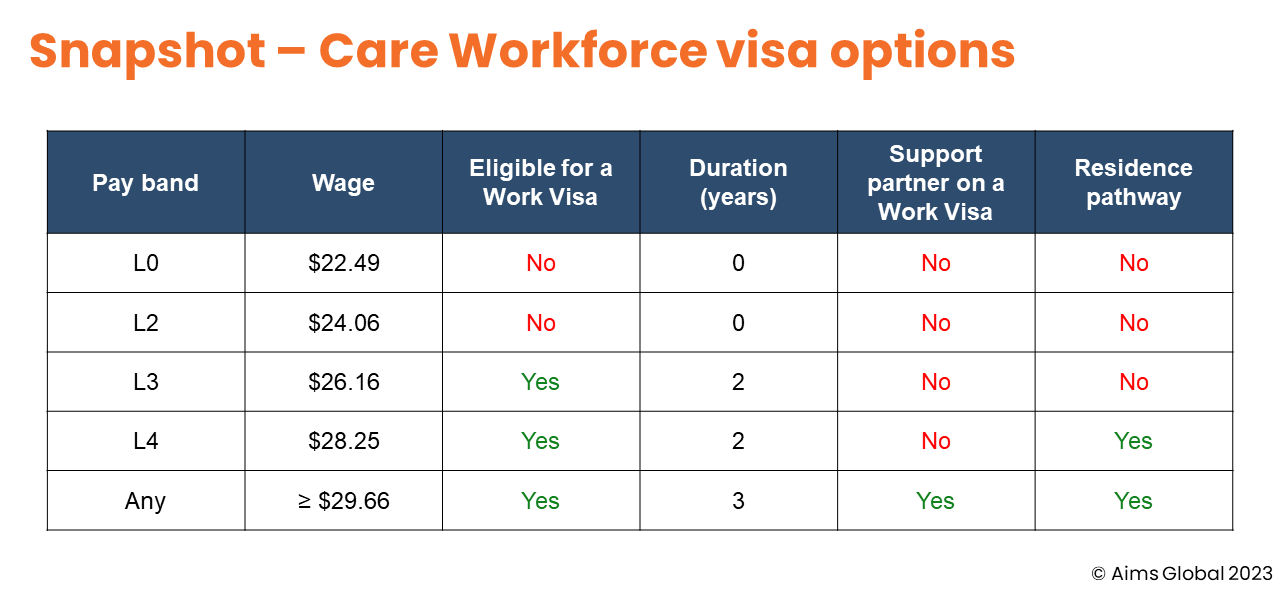 How have current immigration policies impacted your organization's ability to attract migrant HCA?
Join us for an insightful panel discussion on "𝐈𝐦𝐦𝐢𝐠𝐫𝐚𝐭𝐢𝐨𝐧 𝐓𝐨𝐝𝐚𝐲: 𝐀 𝐒𝐮𝐬𝐭𝐚𝐢𝐧𝐚𝐛𝐥𝐞 𝐒𝐨𝐥𝐮𝐭𝐢𝐨𝐧 𝐟𝐨𝐫 𝐍𝐞𝐰 𝐙𝐞𝐚𝐥𝐚𝐧𝐝'𝐬 𝐅𝐮𝐭𝐮𝐫𝐞?" to explore the sustainability of immigration policies.
This event will take place in Auckland, offering an in-person session for those in the region, and will be livestreamed, ensuring that participants from all across New Zealand can join and benefit. As an employer, HR manager, or recruiter, this one-of-a-kind panel event is a must-attend. Gain valuable insights from business and industry experts as they discuss the sustainability of immigration policies and their potential as either a temporary solution or a lasting strategy for workforce development. This topic directly affects thousands of Kiwi businesses and migrant workers, making it crucial for you to stay informed.
Click here to register your interest.